Copyright © All rights reserved. Pan Himalayan Grassroots Development Foundation.

Umang was set up in 2002 by a small team of Kumaoni women from Grassroots and the local community. Today our network has grown to over 1000 women, but we continue to operate with a small central core team.



Suneeta's job is to oversee all of Umang's business and a network of thousands of women, a job she's ably managed since Umang's inception in 2002. Suneeta began work with Grassroots in 1997 as a shy 19 year old. Since then, professionally; she's graduated with an MA in Social Work and a diploma in business studies and personally; she's built a house for her family. For Suneeta, there is no challenge too big. The bigger ones just take that bit longer.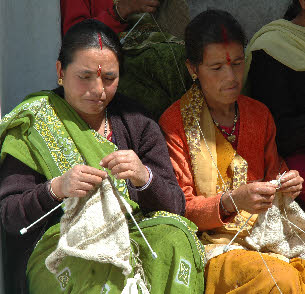 Basanti's job is to manage the entire knitting operation. There are 480 knitters and Basanti ensures more are trained all the time. Sometimes she feels she's half business woman, half social worker! Not that she's complaining, Basanti credits Umang with building her own confidence and is eager to support more woman. Right now she's taking a book keeping and computer course to improve her skills.

Parveen's job is to ensure the Umang jams, pickles and honey are made to schedule and the best possible taste. A commitment to seasonal produce and all natural ingredients is a matter of high principle to Parveen – and she's now confident enough to defend her stance at no less than the State Capital. A bold move that's won the Kumaoni brand even more admirers.

Pooja manages sales and thanks to her winning technique and figure analysis, sales are up month by month since she joined almost two years ago. Behind the record-breaking sales, Pooja overcame her own personal challenges. In the future she wants to represent Umang outside Kumaon but above all she wants to inspire other local women that they too can be independent, head strong, and professional.

Deepa works with Parveen to pickle, pack and process the orders. It's a big responsibility for a 21 year old, but she's used to it. Deepa has been providing for her family since her father died when she was eleven. Today Deepa has educated her brother, her sister and is continuing her studies for a BA in Hindi, Sociology, and History. In the future she wants to help Umang grow internationally. And who knows with Deepa – anything is possible!
Suneeta Kashyap – Company Secretary
Parveen Banu– Preserves & Pickle Unit, Team Leader
Pooja Pandey – Naini Umang Store, Sales Manager
Deepa Joshi– Preserves & Pickle Unit, Second in Command
Basanti Doriyal -
Knitting Division, Managing Director